Billionaire, millionaire and you: how giving may make you a success and even change the world, using the until there is no more method.

This book is the companion work to the nonprofit founded by Brian Boatwright. For more information please navigate to www.untilthereisnomore.org.


---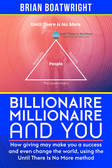 Order your copy today and please provide me with a honest review.

https://www.amazon.com/dp/B075HQG37X/ref=sr_1_3?ie=UTF8&qid=1505081673&sr=8-3&keywords=brian+boatwright
---
This nonfiction book by Brian Boatwright looks at how you and I can end homelessness and hunger in our life time.
The books message is simple, everything we need to accomplish this goal is already around us and it will take; businesses, nonprofits and the government to make the pyramid of success a reality to end this plague on humanity.