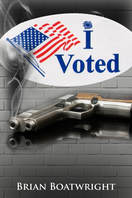 I Voted is a political thiller.

​A secretive company called Tempest Fire Unlimited (TFU) has a plan to get a company elected as the president of the United States. The company will use its influence, political capital and murder to accomplish its goals.

​Walter Corbus is a soldier and is the leader of the company that TFU wants as the leader of the free world. Will Corbus figure out their plan before it is to late.